Greg Brown News
Last updated February 13, 2017
Greg performed a new song, "Trump Can't Have That," recently at a show in Nashville:
Trump Can't Have That (mp3)
[February 13, 2017]

---
Greg will release a new album in October, called Hymns to What Is Left. Some of the songs on it are "Fatboy Blues," "Bones, Bones," "Brand New Angel," "All of Those Things," and "Hanging Man." It will be available on CB Baby. (Be careful because there is at least one other artist named Greg Brown on CD Baby!)
Pre-order Hymns to What Is Left at CD Baby
Review of Hymns to What Is Left by Jim Musser
[September 19, 2012; updated September 27, 2012]

---
Greg has written about his friend, the late singer/songwriter Bill Morrissey, in his blog entry entitled "douds". His comments on Bill start in the middle of the entry. (If clicking the link doesn't take you to the piece, go to gregbrownmusic.org, click on Notes, and then look for the "douds" title.)
[September 19, 2011]

---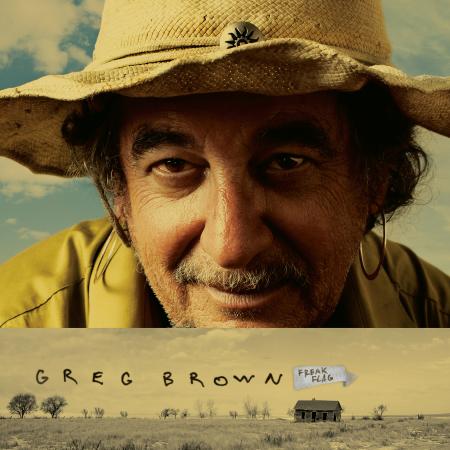 Greg's recording Freak Flag will be released by Yep Roc Records on May 10, 2011. It will be available on CD and vinyl. Yep Roc is accepting pre-orders now.
Yep Roc's announcement of Freak Flag
[March 23, 2011]

---
Greg plays the role of Hades in Ana´s Mitchell's new "folk opera," Hadestown. The work is a recasting of the story of the ancient Greek myth of the poet Orpheus and his doomed quest to rescue his love Eurydice from the underworld, now set in a post-apocalyptic American depression era. The CD will be released on March 9, 2010.
NPR Segment about the Hadestown Project
[March 8, 2010]

---



Greg Brown and Charlie Parr's performance at the 2009 Big Top Chautauqua will be broadcast on the Tent Show Radio program between February 20 and 26, 2010. There is a list of radio stations that carry the show and broadcast times at www.bigtop.org/tsr. Greg performs:
Fat Boy Blues
Laughing River
Poet's [Rexroth's] Daughter
Cold and Dark and Wet
You Drive Me Crazy
Pounding It on Down
Payday (with Charlie Parr)
[February 19, 2010]

---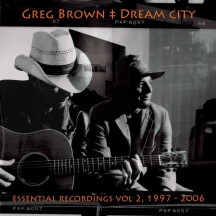 Red House Records has released a new two-CD collection of Greg's music. Titled Dream City: Essential Tracks Vol. 2, 1997-2006, it is a companion compilation to If I Had Known: Essential Tracks, 1980-1996. One disc contains four previously unreleased tracks.

[April 22, 2009; updated July 14, 2009]

---



On November 13, 2008, Greg (with Radoslav Lorkov on piano) performed at the Old Brick Church and Community Center in Iowa City, Iowa. A one-hour DVD of the concert is available, with proceeds benefiting University of Iowa student artists and musicians who lost tools, instruments, and artwork during the floods of 2008. More information and ordering information is available at:

www.youtube.com/watch?v=OZAKKnbwN3A

www.comicsinaction.com/artists-recovery-fund/

[July 14, 2009]

---



A new live CD, for the Benefit of Bald Rock Community in Maine, will be out in the spring. The recording will be from a concert Greg did at the Camden [Maine] Opera House on December 6, 2007, which was itself a benefit. The CD will benefit the Bald Rock Viewshed.

[February 18, 2008]

---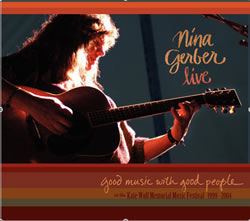 Greg is on two cuts of Nina Gerber's new live CD, Nina Gerber Live - Good Music with Good People. The album features songs recorded at the Kate Wolf Memorial Music Festival between 1999 and 2004. Greg's songs are "These Hills" (written by Iris DeMent) and "Enough," both from 2004, with Nina playing electric guitar.
Other performers include Eliza Gilkyson, Jackson Browne, Bruce Cockburn, Laurie Lewis, John Gorka, Terry Garthwaite, and others. A portion of the proceeds of the CD go to the "Jugalbandi" program at the Sebastopol Community Center.
[October 25, 2007]

---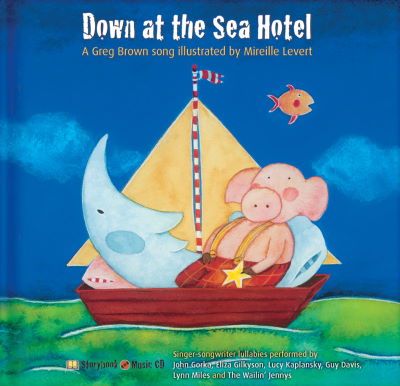 Down at the Sea Hotel is the title of a new children's storybook that is accompanied by a CD of 14 songs. Greg Brown wrote the title song which is the basis for the illustrated book and is performed by the Red House artists who contribute to the CD. They are Guy Davis, Lucy Kaplansky, John Gorka, Eliza Gilkyson, Lynn Miles, and The Wailin' Jennys. (Greg's version is on Bathtub Blues.)
It will be released by The Secret Mountain on October 23, 2007.
[October 12, 2007; updated October 17, 2007]

---
A guitar signed by Greg Brown, B.B. King, Leo Kottke, and others is being auctioned on eBay to benefit the Big Top Chautauqua. The guitar, signed by performers who appeared on the Big Top stage during the 2007 season, may be seen on the main page of the Big Top Chautauqua web site, and there is a link to the auction page.
[October 10, 2007]

---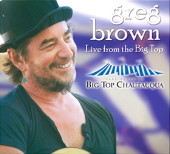 A CD from one of Greg's live performances at the Big Top Chautauqua in Bayfield, Wisconsin, is now available:
The recording is from Greg's concert of August 6, 2005.
[August 20, 2007]

---
There will be a tribute concert in honor of the late Bob Feldman, on September 9, 2007, at St. Paul's Fitzgerald Theater. The concert will feature Greg Brown, Eliza Gilkyson, John Gorka, Robin and Linda Williams, and others.
Tickets are now available through the box office at the Fitzgerald Theater web site or by calling 651-290-1221.
All proceeds will benefit the Bob Feldman Redwood Forest Fund.
[July 12, 2007]

---

Portraits of Greg, Bo Ramsey, Pieta Brown, Dave Zollo, Radoslav Lorkovic, Dave Moore, and others are included in photographer Sandra Dyas's new book, Down to the River: Portraits of Iowa Musicians. The book contains a companion CD of songs by the artists, and Greg's picture is prominent on the cover.
[June 8, 2007]

---
Greg's song "Blue Car" is the first song on a tribute CD for the late Larry Brown. Just One More, A Musical Tribute to Larry Brown, A Great American Author will be released by Bloodshot Records on May 22, 2007.
[February 14, 2007]

---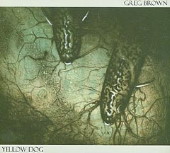 A CD from Greg's August, 2005, concert at the Peterson Auditorium in Ishpeming, Michigan, has been released by Earthwork Music. Earthwork reports that "All proceeds for the album will go to the Yellow Dog Watershed Preserve, an organization dedicated to protecting the Yellow Dog River. A metallic sulfide mine has been proposed within the Yellow Dog Watershed."
Earthwork Music's announcement (and a video clip)
The following page offers a song, "Please Don't Talk about Me When I'm Gone," from the CD:
Exclusive track from Greg Brown's new Yellow Dog CD
The CD may be ordered from Earthwork (via PayPal) or from Elderly Instruments (using a credit card).
[February 12, 2007; updated April 27, 2007]

---
Congratulations to Greg on his nomination for a Folk Alliance Award in the category of "Contemporary Artist of the Year." Other nominees in the category are Chris Smither, Darrell Scott, Janis Ian, and The Wailin' Jennys. The awards ceremony will be February 21, 2007, in Nashville.
[January 31, 2007]

---
Greg will be part of the live Mountain Stage broadcast on January 28, 2007.
[January 9, 2007]

---
There is a segment on Greg Brown, including a scene at a concert at the Big Top Chautauqua, in Michael Perry's book Truck: A Love Story.
[January 7, 2007]

---
Greg's new album, The Evening Call, on Red House Records, is scheduled for release on August 8, 2006, in the U.S. The track list is:
Joy Tears
Evening Call
Cold & Dark & Wet
Bucket
Mighty Sweet Watermelon
Treat Each Other Right
Eugene
Coneville Slough
Kokomo
Pound It On Down
Skinny Days
Whippoorwill
The Evening Call Page with Sound Samples at Red House
[July 21, 2006; updated August 1, 2006]

---
Portraits of Greg, Bo Ramsey, and others will be the subject of a new work by photographer Sandra Dyas. The hard-bound book will be published by the University of Iowa Press in 2007.
[June 8, 2006]

---
Minneapolis singer/songwriter Glenn Galen has made available his cover of "Ring around the Moon" on his website, www.GlennGalen.com.
As of May, 2007, the song is available in mp3 as well as Flash format.
[January 27, 2006; updated May 11, 2007]

---
Fans of Greg Brown and of "folk music" everywhere are mourning the death of Bob Feldman, the president of Red House Records. Bob and Greg were jointly responsible for getting Red House off the ground, and Bob oversaw its rise to one of the premiere independent record labels in the world. He died January 11, 2006, at his home in Minneapolis. He was just 56.
Condolences to Bob's family, to Greg, and to all of those involved with music who came to be his friends.
Minneapolis Star Tribune: "Folk-music impresario Bob Feldman dies"
Minneapolis Star Tribune: 1999 Photo of Bob in his office
Celebrity Access profile of Bob Feldman"
St. Paul Pioneer Press: "Folk community mourns death of Red House records president"
Kansas City InfoZine: "Red House Records President Bob Feldman Dies at Age 56"
Power Line Blog: "Remembering Bob Feldman"
[January 12, 2006; updated January 16, 2006]

---
Greg's song "Lord, I Have Made You a Place in My Heart" plays a recurring role in Christian Bauman's new book, Voodoo Lounge.
[October 4, 2005]

---
The Solid Heart benefit CD is now available from:
The Children's Village
327-A College Avenue
Santa Rosa, CA  95401
Phone: 707-566-7044
www.thechildrensvillage.com
[July 6, 2005]

---
Greg's "Vivid," from Slant 6 Mind, is included on a two-CD benefit album called Parkinsong, Volume One: 38 Songs of Hope.
[August 9, 2004]

---
The Cumulus Presents website has ordering information for a new double CD with tracks from Greg's appearances at the Kate Wolf Music Festival between 1997 and 2003. The announcement of In the Hills of California states that "[p]roceeds from the sale of the CD will go to the Jugalbandi Project, a music and arts in the schools program administered by the Sebastopol Community Center."
[June 22, 2004; updated July 23, 2004]

---
Red House Records has announced that the Greg Brown tribute CD Going Driftless has raised over $50,000 for The Breast Cancer Fund (TBCF).
Red House's press release:

For Immediate Release:
May 3, 2004

Contact: Bob Feldman 651-644-4161
publicity (at) redhouserecords (dot) com

Red House Tribute CD Advances Breast Cancer Prevention Efforts

Going Driftless Raises Over $50,000 for The Breast Cancer Fund

St. Paul, MN - Red House Records and The Breast Cancer Fund (TBCF) are pleased to announce that the CD Going Driftless: An Artist's Tribute to Greg Brown has raised over $50,000 for TBCF, which advocates for the identification and elimination of environmental and other preventable causes of breast cancer. The CD features an all-star cast of women artists performing their favorite Greg Brown songs. The artists and Brown himself donated all their royalties to the Fund.

"We are thrilled that the success of Going Driftless has translated into a major donation to TBCF," said Red House Records President Bob Feldman. "Our mission has always been to make and distribute honest music in such a way that it does the most good in this world.....that it contributes to positive social change. We're hoping that the word-of-mouth, online sites and committed retailers keep this title alive. We want to make a difference in the fight against breast cancer."

Going Driftless celebrates Brown and his poetic, roots-oriented music and songwriting, which has had a major impact on innumerable artists. The CD features singers Lucinda Williams (whose track received a 2003 Grammy nomination), Mary Chapin Carpenter, Ani DiFranco, Iris Dement, Shawn Colvin, Lucy Kaplansky, Gillian Welch and even Brown's three daughters -- Pieta, Zoe and Constie.

It was Brown's personal request that proceeds from the sale of the album be donated to The Breast Cancer Fund to honor the memory of Widdie Hall, a close friend who died from the disease. Hall founded The Folkway, the legendary listening room in Peterborough, New Hampshire and was influential in the lives of many folk artists throughout the 1970s and 80s.

"The Breast Cancer Fund works from the knowledge that breast cancer is not simply a personal tragedy but a public health priority that demands action from all," said Jeanne Rizzo, Fund director. "Greg, Red House and all the artists involved in Going Driftless have certainly done their part. Their support keeps our efforts strong in working to stop the breast cancer epidemic before it can affect countless more mothers, daughters, sisters and friends."

Going Driftless is available at www.breastcancerfund.org or www.redhouserecords.com, online and at fine stores everywhere.

###
--
Bob Feldman
Red House Records, Inc.
http://www.redhouserecords.com

[April 30, 2004]

---
[information provided by Doug Ashford]
There is an otherwise-unavailable song by Greg on a benefit CD for Radio Free Brattleboro in Vermont. The song is "Bucket," recorded in November, 2002, in Guilford, Vermont. You can get the CD (which also features good people like the California Guitar Trio, Paul Barrere & Fred Tackett of Little Feat, and The Mammals) from CD Baby.
A review from the area paper, The Valley Advocate
Radio Free Brattleboro is a 10-watt microwave station that is in the midst of a protracted fight with the FCC to stay on the air.
[February 9, 2004]

---

Greg will have a new album of traditional songs, Honey in the Lion's Head, on Trailer Records. The release date is January 27, 2004.
Several music-shop web sites give the following track list:
Railroad Bill
I Believe I'll Go Back Home
Who Killed Cock Robin?
Old Smokey
The Foggy Foggy Dew
Down in the Valley
Ain't No One Like You
Green Grows the Laurel
I Don't Want Your Millions, Mister
I Never Will Marry
Samson
Jacob's Ladder
[December 22, 2003; updated January 13, 2004]

---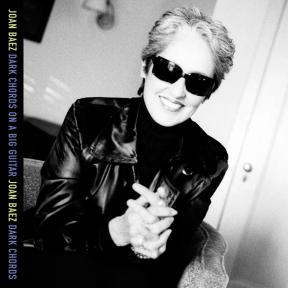 Joan Baez covers two of Greg's songs, "Rexroth's Daughter" and "Sleeper," on her new album, Dark Chords on a Big Guitar. The album, which takes its title from a line in "Rexroth's Daughter," will be released on September 9, 2003.
The following audio streams are provided (and hosted) by Special Ops Media:
song
format
bandwidth
Rexroth's Daughter
Real Media
high
low
Windows Media Player
high
low
Sleeper
Real Media
high
low
Windows Media Player
high
low
[September 4, 2003]

---
Red House Records will release a new two-disc set, on September 9, 2003. If I Had Known: Essential Recordings, 1980-1996 will have one audio CD packed with 17 songs selected from Greg's albums during the period. It will also have a DVD of Hacklebarney Tunes, Jeffrey Ruoff's excellent documentary.
The track list for the CD is in the discography.
[August 14, 2003]

---
A new live album featuring Greg, Garnet Rogers, Karen Savoca and Pete Heitzman will come out in the spring of 2003. Live at the Black Sheep was recorded during two nights last August in Wakefield, Quebec.
According to Karen and Pete's e-mail newsletter: "[T]he CD is structured in a song swap, festival workshop style, where Greg, Karen & Garnet take turns singing a song and the others jump in and play... [M]ost of the material was new to all of us!"
[February 20, 2003; updated December 8, 2003]

---
There is a feature on Greg in the Arts section of the January 12, 2003, Sunday New York Times:
[January 10, 2003]

---
Last Thursday Greg and Iris DeMent wed. We wish them much happiness and lots of good music.
[November 25, 2002]

---
A benefit/tribute CD of women artists covering Greg's songs called Going Driftless: An Artist's Tribute to Greg Brown will be released by Red House Records on September 10, 2002. Royalties for the CD will go to The Breast Cancer Fund of San Francisco.
The CD will include the following performances: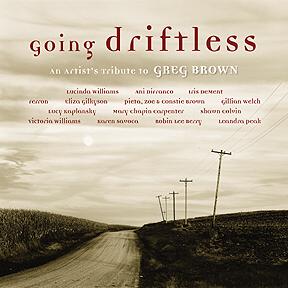 Lucinda Williams - Lately
Ani DiFranco - The Poet Game
Iris DeMent - The Train Carrying Jimmie Rodgers Home
Ferron - Where Is Maria?
Eliza Gilkyson - Sleeper
Pieta, Zoe, & Constie Brown - Ella Mae
Gillian Welch - Summer Evening
Lucy Kaplansky - Small Dark Movie
Mary Chapin Carpenter - Spring & All
Shawn Colvin - Say a Little Prayer
Victoria Williams - Early
Karen Savoca - Two Little Feet
Robin Lee Berry - Hey, Baby, Hey
Leandra Peak - Wash My Eyes
[July 15, 2002; updated April 30, 2004]

---
Milk of the Moon will be released officially on March 12, 2002, but Greg Brown fans can get it earlier by phone from Red House. Below is an announcement note from Bob Feldman:

After a yearlong sabbatical from touring, two time Grammy nominated songwriter Greg Brown is releasing an artfully stripped-down cd entitled Milk of the Moon on March 12th. Long time friends and tour partners Pete Heitzman and Karen Savoca accompany Greg on the album and share production credits with Greg. Pete's haunting slide guitar and Karen's subtle backing vocals add definition to the album's beauty and rural imagery - naked, stark and muddied. It's really an album about love. It has a very organic feel throughout. Kind of like winter's secrets illuminated by the moonlight. We haven't stopped playing it since we got it in. Although it won't be in stores till March 12th we will once again take phone and web orders and ship them out several weeks in advance to those of you on our list. Just call Roland or Becky at our toll free number 1-800-695-4687. We still have a deal where if you buy three cd's at $15 you get the fourth for $5 ($12.50 each).

The songs on the new album will be:

Lull It By
A Little Excited
Let Me Be Your Gigolo
Smell of Coffee
Milk of the Moon
Mud
Ashamed of Our Love
Steady Love
The Moon Is Nearly Full
Telling Stories
Never So Far
Oh You

[February 14, 2002]
---
Erica Smith covers "Driftless" on her self-titled CD. There is a soundclip at CDBaby.
On her web site, she says of the song:

   This song comes from Greg Brown's album The Poet Game (1994) -- one 
   of the most restless and beautiful albums I know. We recorded this as 
   a demo a few years ago, off the cuff, and I'm happy to bring it 
   finally into the light.

[January 14, 2002]

---
"Don't Be So Sure," a previously unreleased song from the Covenant sessions, is included on MUSE: Musicians United to Save the Englert, on Trailer Records.
[January 2, 2002]

---
"Better Days," written by Garnet Rogers for Greg, is on Garnet's new CD, Firefly.
[January 2, 2002]

---
Greg has recorded "Where's My Everything?" for an upcoming compilation of Nick Lowe songs. Bo Ramsey accompanied him.
The CD, Labour of Love: Music of Nick Lowe, will be released September 25th on Telarc.
[May 22, 2001; update September 18, 2001]

---
Greg performs his song "Kate's Guitar," written about Kate Wolf, with Nina Gerber on her new album, Not before Noon. Greg's hand-written lyrics for the song are on Nina's site.
[May 18, 2001]

---
An excellent new site about poet/writer Kenneth Rexroth, referenced in Greg's song "Rexroth's Daughter," is now open. The Rexroth Archive is at http://www.bopsecrets.org/rexroth/index.htm.
[May 4, 2001; updated June 22, 2004]

---
The music and chords for "Rexroth's Daughter" is in the current issue of Sing Out! (pages 98-99).
[March 15, 2001]

---
Red House Records will release a CD to note Bob Dylan's 60th birthday, A Nod to Bob: An Artists' Tribute to Bob Dylan on His 60th Birthday, in May of 2001. Greg has contributed his version of "Pledging My Time," originally on Dylan's 1966 Blonde on Blonde.
[February 17, 2001; updated February 27, 2001]

---
Singer/songwriter Jason Borden has a song dedicated to and inspired by Greg Brown on his new album. The song is available in mp3 format at his Hog Wild Records web site. (Click on News and then the song "As Good as It Gets.")
[January 2, 2001]

---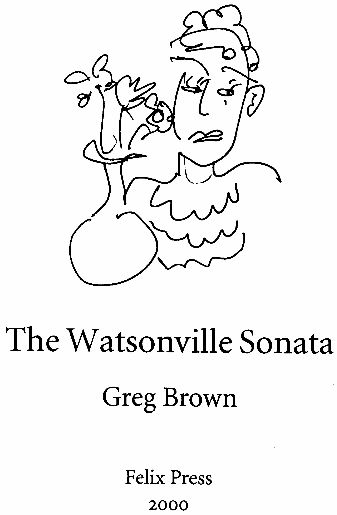 Greg has a short book of writings, The Watsonville Sonata, available from Felix Press.
Pricing and order information is at the Felix Press site.
The original announcement from Felice Tebbe of Felix Press read as follows:
The Watsonville Sonata by Greg Brown is a charming collection of eight stories or "scraps" as Greg calls them. As I am sure you can imagine, it is poetic and poignant with an intimate tone, peppered throughout with dry humor. It is a wonderful read. Greg will introduce the book to the public at a reading on October 16th; the reading will be broadcast on public radio's Live from Prairie Lights series.[...]
[August 29, 2000; updated June 22, 2004]

---
After the initial pressing of Covenant, Greg and Bo Ramsey made some changes. Two songs were re-recorded and two were remixed and/or remastered. You can distinguish the versions visually from the CD itself. The first version has "(C)(P)2000..." and the second has only "(P)2000..." There are also time differences for the changed tracks:

                             inlay  ver 1  ver 2
 1. 'Cept You and Me, Babe   4:30   4:30   4:30
 2. Rexroth's Daughter       4:53   4:53   4:58   ***
 3. Real Good Friend         3:54   3:53   3:53
 4. Blues Go Walking         3:18   3:17   3:17
 5. Waiting on You           4:27   4:26   4:29   ***
 6. Living in a Prayer       3:43   3:43   3:43
 7. Dream City               4:10   4:10   4:10
 8. Lullaby                  4:19   4:18   5:41   ***
 9. Blue Car                 4:09   4:09   4:09
10. Walkin' Daddy            4:44   4:43   4:54   ***
11. Pretty One More Time*    4:34   5:12   5:12
12. Marriage Chant           ----   3:47   3:47

*"Pretty One More Time" contains a period of silence at the end on both versions, before the "hidden track."
On "Rexroth's Daughter" the drum track has been removed and Bo redid some of his guitar work. "Waiting on You" is a different take; Greg sings it lower on the new version. The new recording of "Lullaby" is much slower (and longer). "Walkin' Daddy" is the same take, but it has been slowed down slightly and the volume levels are lower on version 2.
Presently both versions are available from Red House Records; the first version will only be available until the initial pressing is sold out.
[August 4, 2000]

---
Greg and Bob Ramsey's show on May 20, 2000, in Batavia, Illinois, was videotaped and is for sale to benefit In Harmony.
It is available from the producer Ryan Elliott at The Lightheart Center The price is $33.50 ($30 plus $3.50 postage and handling) per video.
To order by phone with credit card, call 1-800-421-2717 or e-mail seelight@juno.com. To order by mail, send a check to:

  The Lightheart Center
  165 S. Church St.
  Winfield, Illinois 60190  



[May 28, 2000; updated November 25, 2001]
---
According to Bo Ramsey's web site, "Bo has just completed co-producing and playing on a new Greg Brown record titled Over and Under to be released in late spring or early summer on Trailer Records. This is Bo's second work with Greg this year, having already completed work as producer on Covenant."
Greg has said that the album will come out in early July.
Songs on the album reportedly include:
Betty Ann
Never Got Over You
Drunk Boys
Fairfield
Almost Out of Gas
There have also been rumors that an album of traditional songs (a project long considered by Greg) will come out on Trailer Records in the fall of 2000.
[April 13, 2000; updated June 13, 2000]
---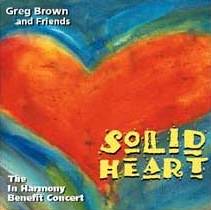 On January 16, 1999, Greg did two shows in Corvallis, Oregon, for the benefit of the In Harmony project. Greg has kindly given his permission to In Harmony for a CD from those shows, as have Kate MacKenzie and Dave Carter & Tracy Grammer.

The CD, Solid Heart, is now available! The CD may be ordered from Red House Records.

The CD features 15 cuts with Brown including several unavailable on previous recordings. Special guest Kate MacKenzie sings "Grown Woman" and Kerrville award-winners Dave Carter & Tracy Grammar, who opened for the benefit, serve up two numbers and join Greg for the closing cut.

The artists donated all proceeds from both the January concert and the CD to In Harmony, a non-profit visionary orgination developing an intergenerational community for children in foster care or labeled "unadoptable." For more information on In Harmony, visit their web site at www.inharmony.org.


Greg's comments on the project:

this is a beautiful idea-- to provide housing & kindness & possibilities to these children who come out of very tough situations, & at the same time build housing for elders who will provide some of the care for the children. it is a good thing for everyone-- it is love in action.

gb

Update: The original version sold out in December of 1999. There is now a new release, which has a different version of the song "Solid Heart" and "Build a Little Village" in place of "My Famous Friends." Both of the new versions are from Greg's appearance on Prairie Home Companion on May 15, 1999. There is more information at In Harmony's site.

The track list:
Greg:
I Must Be in Oregon (improvisation) [2]
Solid Heart (Jose's poem) [1] (song on second release is from Prairie Home Companion in May 1999)
If You Don't Get It at Home [1]
My Famous Friends [1] (second release has "Build a Little Village")
Winter Rain [1]
Further In [1]
Lullaby ("You make me sleepy") [2]
She Moved through the Fair [2]
If I Had Known [2]
Vivid [2]
Pound It on Down [2]
This Blue [2]
Kate MacKenzie:
A Grown Woman
Dave Carter and Tracy Grammer:
Don't Tread on Me (called "a hallucinogenic beatnik/redneck/ginsberg deal")
When I Go
Greg:
You Got to Move (with Dave Carter and Tracy Grammer)
Ring around the Moon [1]
[1] = from the first show; [2] = from the second show

Greg's liner notes for the CD:

This world of ours is a funny place, if you have the luxury of looking at it from any kind of a safe distance. The kids for whom we are doing this CD have no such luxury. The idea of In Harmony is to provide a seedground of safety. Human beings have such amazing potential for kindness, creativity, love and laughter. But there must be a seedbed--a place where the sun can shine, where things can grow. And who knows more about such things than our elders? They have seen life. They know things. What our hearts want, what is practical--is a completion of the circle. A place for young and old, a place of healing, a place for goodness to grow. In Harmony is a wonderful idea. Let it become a lively reality! I will see you there. Love-- Greg Brown

[January 29, 1999; updated January 5, 2001]
---
The following information, from the "Whistlestop Acoustic Junction" newsletter, was forwarded to the Greg Brown list:

   NEWS AND REVIEWS:

   * Greg Brown fans: there's a new, outstanding video document of his
     music and his life produced by an Oregon student. It's also a
     snapshot of midwestern life with beautiful shots of Iowan farmland
     and small towns, with his music a thread through it all. The 60-
     minute video is available for $23 ($20 + $3 shipping/handling), $30 if
     mailing abroad, with checks to:
       
       Jeffrey Ruoff
       Film and Television Studies
       HB6194, Wilson Hall
       Dartmouth College
       Hanover, N.H.  03755

Here is some additional information that was posted by a member of the GBrown-L mailing list:

   I saw this movie a few months ago shown at Reed College in Portland by the
   filmmmaker Jeffrey Ruoff. He is not a student, but is a visiting prof at
   Reed who used to live in Iowa City, where he became acquainted with GB's
   music and decided to make this movie. The movie is not new, but as the
   filmmaker says, it was made during the Dream Cafe period. He has shown it at
   Reed a couple times and apparently has just decided to make it available on
   videotape (I just got a flyer about it from Reed). Anyway, the movie is
   definitely worth seeing. It focusses on Greg's Iowa roots and early cultural
   influences, rather than being the story of Greg's life or all of his music.
   There are interviews with people he grew up with, including none other than
   Jimmy of the five pound bass! Ruoff told the audience that Jimmy had never
   heard If I Had Known!

[October 28, 1998; updated October 14, 2001]
---
Red House Records, Greg's label, has started a new informational mailing list. This list will cover all of Red House's artists. There will be a monthly update on new cd releases, tours, and special events such as awards or national media appearances. To sign up, see the Red House Records main page.
[October 26, 1998]
---