Greg Brown - January 16, 1999
The Majestic Theatre, Corvallis, Oregon
Date: Wed, 20 Jan 1999 23:54:30 -0800
From: Lisa <alfesq@cwo.com>
Subject: In Harmony shows

A review of Greg's two shows in Corvallis, OR, 1/16/99 at the Majestic Theatre:
Let me start off by saying that I've never enjoyed a Greg Brown event as much as I did the Corvallis concerts. Greg was rested and happy (he'd been off work for a month he said, hangin' around the homestead) and he looked, throughout both shows, like he was having a blast. And when I asked him at the reception if he had as much fun as it looked like he was having, he said yeah, he had a great time.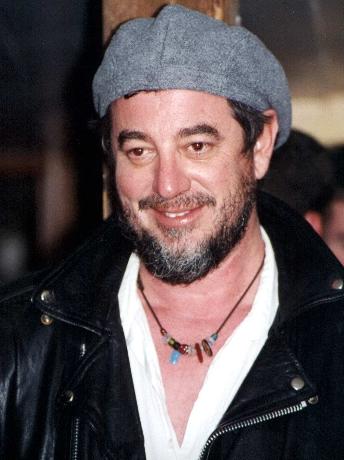 And what a good cause. The In Harmony project, which will be a model for the nation, seeks to build a community of quality housing for children surrounded by quality affordable housing for seniors, and to involve the seniors in the daily lives of the children and vice-versa. The goal is to provide an alternative to, and hopefully a replacement for, the current fragmented system of foster care. The people working on the project are very enthusiastic and energetic. It makes me wish that I lived in the area so that I could contribute more than cash. I imagine, however, that any and all cash contributions, no matter how small, are greatly needed and appreciated. (In Harmony, 500 SW Madison Ave., Suite 2, Corvallis, OR 97333 - a non-profit org so contributions are tax deductible.)
Greg has given the project much. First, he refused any money for his performances or for his expenses. Second, he became personally involved by adding melody and guitar to J's poem and presenting it, not only to us at the early show on Saturday, but also, and first, to children that the program seeks to benefit, including J himself. On Friday, Greg performed for the kids at a location unknown to me, though I understood it to be one of the childrens' homes where the county currently houses children who are dependents of the state. And, at the end of the night Saturday, instead of being able to retreat to privacy and the company of his friends, Greg stayed quite a long while at the reception and talked to everyone, including a few listers (yeah, me included :-D !). He was personable and approachable, and it was really nice.
I had the good fortune to meet fellow listers Glenn and Moe, Maggie (again - we met at the Dallas show too), and Barbara and David. I'm disappointed to learn that there were a couple other listers there that I missed meeting. It's fun to meet friends that I've known for a long time but never met in person.
Okay, on to the show...
Dave Carter and Tracy Grammer were the opening act for both shows. They were great, and the crowds loved them. Me, too. Dave seems kinda wide-eyed with wonder at what's happening to him, what with all the acclaim he's received in the last year or so, but he was humble, gracious, and, judging by his trembling fingers on the strings of his guitar and banjo, a little nervous. I happened to catch their sound check, though, and I know that they absolutely loved the acoustics in the theatre and the mix that sound woman Diana put together for them. It was clear that they had a good time in their performances, and it was really fun to watch. Dave and Tracy also gave their time and talent to the In Harmony cause - they played for free.
As has already been mentioned, Greg bought a 'new' guitar just before the first show, an Ovation with a blue top. He played it for both shows and it sounded great, though he said it didn't seem to like the D tuning. He recognized that it might be hard for the guitar having to learn all these new songs. Thought this guitar might be more like Las Vegas, then told the guitar to get used to it, pal. It did. Seemed like even the D tuning got easier through the evening.
No shades first show, on for evening show, off again for reception. The audiences for both shows were great, and there were lots of people who hadn't seen Greg live before, so there was lots of laughter and applause. Surprise appearance by Kate McKenzie in the evening show.
First show:
Further In
You Make Me Sleepy (a new song Greg called a little lullaby for married people)
Mississippi Moon
Say a Little Prayer
I Am (poem by Jose Flores, set to music by Greg)
One Wrong Turn (done slow, very bluesy - excellent!)
Foggy, Foggy Dew
If You Don't Get It At Home
Mose Allison Played Here (cleaned up a little - "The band signs their poster 'You can eat it, Miguel'" - probably for the children in the audience)
Boomtown
Think about You
My Famous Friends
Two Little Feet
Good Morning Coffee
Encore:
Winter Rain
Ring around the Moon
Second show:
I Must Be in Oregon (new, impromptu song? don't think I've heard it before)
You Make Me Sleepy (He must like this song. I sure do.)
She Moved through the Fair
China
Spring and All
Vivid
Ballingall Hotel
Speaking in Tongues
Pound It On Down
This Blue ("as blue as this guitar")
A Grown Woman (a song Greg wrote for Kate McKenzie, w/Kate in lead vocal)
Driftless (Greg's guitar work on this song was exceptional. It sounded at times like two guitars. w/Kate in lead vocal)
If You Don't Get It At Home (with Kate)
Railroad Bill (with Dave and Tracy)
You Got to Move (and old spiritual, with Dave and Tracy)
Encore:
Time (by Tom Waits)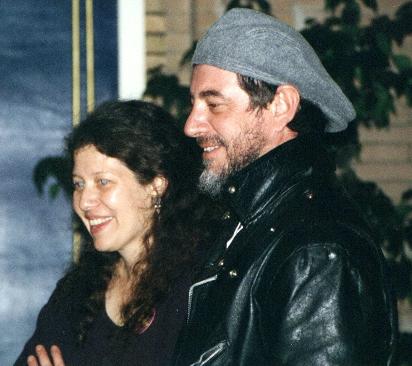 The reception was at an Italian restaurant a couple of doors down. Lots of good food and wine, but it was in a too-small room in the basement, too warm and stuffy. There was music playing upstairs that I could hear too well. But the folks there were having a good time and Greg held forth in his humble way, talking to people, answering questions, signing autographs. Dave and Tracy played a couple of parting tunes at the reception, one about Grand Prairie, TX just for Maggie who recently moved from TX to OR. (BTW, Greg seemed to really enjoy Dave and Tracy's music, both during one of their opening sets and at the reception.) The reception, as it wound down, kind of moved to the sidewalk, where it continued into the wee hours. We listers (aka the stalkers) that were still hangin' around got a rare opportunity to chat with Greg. It was great.
Jana and Greg
(Photos by Lisa Fraser)
Well, there you have it. Long, I know, but there was lots to tell. You shoulda been there. Thanks again, Jana, for putting it all together. You deserve a medal, or a big smooch from Greg, or both!
Lisa Fraser
P.S. I know I don't have to urge you all to buy the cd when it comes out. It will no doubt be excellent. The real problem will be trying to decide which songs to NOT include, 'cause they were all really good! Email Jana at vagnew@proaxis.com and let her know you want a cd so that you'll get one. I don't think there are going to be whole lot of them, so don't wait!