Date: Monday, July 26, 1999
From: Fanniemac@aol.com
Subject: Falcon Ridge Folk Festival!

Well, Falcon Ridge is over and let me say that those of us who were fortunate to attend this great festival had the privilege of hearing and seeing some of the finest musicians out there. I hope all the Gregheads saw Ani Difranco's remarkable performance on Saturday night, as well as Ellis Paul, Vance Gilbert, Karen Savoca and Pete Heitzman, Cry, Cry, Cry, Stacey Earle, the Kennedys, the incomparable Farron -- you get the idea, the list goes on and on with great performers. Of course, to top off all this incredible music, there is your Gregness ending the festival and doing some amazing short sets at the workshops!
Greg participated in three workshops, two on Sat. and one on Sunday morning, which he just made by the skin of his beautiful butt! The workshop stages on Sat were lots of fun, with Greg pulling out songs like China, If I Had Known, Little You and The Marriage Chant. And now for the fashion report that we all crave! Your worship was not wearing a hat, just a bandanna and you could see those curly locks flow in the hot nonexistent breeze! On Sunday morning, he performed the song Blue Car Blues which was awesome live, and just a thrill to hear after reading the words posted on this digest!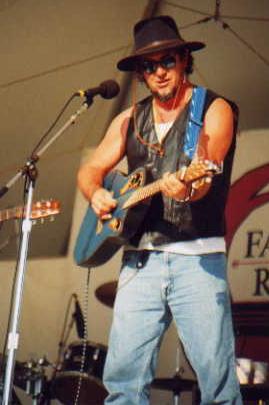 (Photo by Paul Casucci)
Now for the main set on Sunday, early evening. Greg had the last slot preceded by the wonderful Karen Savoca and Pete Heizman. It was Karen's birthday, and Greg made sure the crowd sang to her! The set list had some of the best versions of these particular songs that i have yet to hear! Playing with him were Karen, Pete and the always ever brilliant Radaslov! By the way, Rad was in the house band and did some great jamming with many of the artists all weekend long.
At the end, he bowed and took his hat off to show those curly locks once more! And now, let us not forget the ever popular fashion report: blue jeans, white sleeveless T-shirt, black, looked like leather vest, black wide brimmed hat, shoe boots and of course, sun glasses! You needed em! Just stunning to the eyeballs, ladies and gents!
Despite the torrential downpour from a passing thunder shower late Sat. afternoon and the extreme heat and baking hot sun, nothing could damper the marvelous feeling of community and goodwill that dominated at Falcon Ridge this past weekend. It is a fine tribute to the wonderful artists, volunteers and music lovers all, who attended this festival! Greg himself made mention how this feeling was the same motivation for the In Harmony foundation. Wouldn't it be great if the world could be this way, he pointed out! I think we would all tend to agree! Music brings people together and some of the finest moments in that music are the songs of Greg Brown. How lucky I feel this morning to have found this wonderful artist!!! I urge people to attend next year's festival as it is the best of times! fern
The songs follow:
I'm Not High -- you couldn't stop 'em from taking this delightful song to new heights.
The Karen story of her coming into existence and growing up, as only Greg could tell it./
Happy Birthday to Karen
Two Little Feet -- a nice loooong version
The Marriage Chant -- someone up above loves me, as twice in one weekend is heaven! It is just my favorite song!
Canned Goods -- a beautiful version with spoken story and a wonderful keyboard break from Rad.
Think About You
Who Would Have Thunk It? -- terrific guitar break from Pete
Wash My Eyes -- one of the nicest, sweetest versions i have ever heard him do!
Encore: Build A Little Village -- Before this song, Greg informed the crowd that he was concerned about people purchasing the In Harmony CD rather than One Night, that had always been announced as his most current! I knew he would make mention of this, as he seemed truly upset every time In Harmony was mistakenly ignored! That's our guy!!!
Date: Monday, July 26, 1999
From: eric <ericdn@erols.com>
Subject: Another View from Falcon Ridge

i'll add some thoughts to fern's post:
it was hot. really hot. and humid. and sweaty. and a hell of alot of fun. i don't know whether any folks from the list managed to meet. i looked around a bit, but it being a folk festival, it wasn't wise to leave your blanket or patch of grass unattended for too long. so i gave up and figured everyone was having a good time wherever they were.
the friday night song swap was fun, though greg only played three songs or so.
i only attended one of the "workshops" (i don't like that particular term, because it's pretty much a misnomer) due mainly to the sun and heat and 200 or so people that decided that it would be a great idea to sit as close to my friend and i as possible. i thought you left a small space between blankets to leave a little walking room. unfortunately, everyone else seems to think that that 12" by 24" patch of green is the *perfect* spot for them and perhaps one or two of their friends. and if the mood strikes, maybe a cooler. (yes, i actually saw two men carrying a cooler that required two people to handle it settle onto a very small patch of space between blankets. rather than set fire to the speakers, however, the blanketeers just sort of shook their heads and sighed.
unfortunately, soundboard taping was not allowed, though i did see some folks with microphones in the audience.
so, the music: the workshop i attended was entitled "Songs I Wish I Had Written" Vance Gilbert did a song (i forget which one.) Cliff Eberhardt did a great bluesy versiion of "bye bye blackbird." then greg ambled over to the microphone, and without a word, started strumming. He did the following mini-medley, singing most of the first song completely, and then one verse from each subsequent one:
Ring of Fire/
Positively 4th Street/
Here Comes the Sun/
(something about "I like trees" (?)
he strummed a bit more, looked skyward, stopped playing abruptly, smiled and said "more later."
As if that isn't enough, let me add that he sang Ring of Fire (a Johnny Cash song) in a frighteningly dead-on johnny cash voice. so much so that i noticed that people behind the stage in the little vending area and people on their way down from the camping area run over to the back and sides of the stage to see what the hell was going on. the other musicians on the stage were, it's fair to say, in awe. not to mention the audience.
If that was all i saw all weekend, it would've been worth the price of admission. he did a second song a little later at this workshop, but i forget what it was. (yes, i'm slipping...)
his main performance last evening was very good, though brief. having karen (whose birthday it was, which comes into play later), pete and radislav back him up was a real treat.
greg was a bit sunburned, a bit tired. but then again, so was everyone else there, so there was a bit of communal misery (which, in a odd way, was fun. go figure...) he managed to incorporate quite a few aspects of the weekend experience into his songs, too, which was entertaining:
Not High - a very nice, long version. towards the end, it turned into something like


"Not too high/just a little sunburned
just a little dirty/just a little hungry
just a little rainsoaked/just a little sweaty
but i'm doin' alright/not too lowly..."


i had mentioned to my friend (her first greg brown show) that one of the fun things about him is that he never really has anything like a setlist set in stone, so it's always amusing to watch the other musicians on stage watch him play until they figure out what song it is.

after "Not High" he just sort of started strumming a few chords while the others onstage looked at him, looked at each other, looked perplexed. he walked up to the mike and started telling the "story" of the Savocas, how grandma and grandpa came over from italy many years ago, settled in and eventually karen was born. he then did a brief impersonation of karen singing, which was hilarious, as well as commenting to her that "here you are onstage with your shaker - that's a hell of a way to spend your birthday..." the chords he's been strumming formed the basis of "happy birthday."

two little feet - they hit a real groove on this one, and greg started the song by repeating "whaddaya got?" over the opening chords. also laden with camping/falcon ridge references.

marriage chant - really funky

canned goods - had the crowd in the palm of his hands.

think about you - rad had a great solo on this.

who woulda thunk it - again, they just found a groove and stayed there. included lines about needing a better tent, a bigger campsite and *really* needing "that SUV with the pull-out kitchen"

wash my eyes - i really love this song. it was incredible. it was hard to believe how quiet it got on the lawn when this was sung.

before the build a little village encore, greg talked quite a bit about the In Harmony project, what it's all about, and urged people to buy the cd. he then added, with a laugh, "even if you don't like anything i'm playing here tonight, buy the cd anyway."
not a bad weekend at all...
-eric