Greg Brown -- June 27-29, 1997
Wisconsin Concerts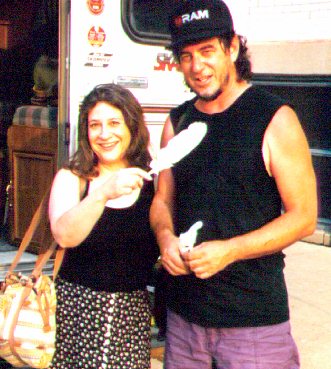 Date: Mon, 07 Jul 1997 10:39:03
From: "Shirley M. Cottle" <cottles@uwwvax.uww.edu>
Subject: Re: milw. june greg concerts

I'm still all a-quiver after 4 shows with Mr. Magnificence - don't really know where to begin.
Shirley and Friend, photo by Regina -->
I didn't keep set lists - just don't have that much control over my extremities during these times, but as I thought about it, there were only 5 songs I can recall having heard twice over the whole weekend, Dream Cafe, Boomtown, Mose Allison, Fishin' with Bill, and a great new one he wrote on Saturday that he played at both Sunday shows. (Can anyone else who was there come up with a name for the new one?)
Friday Afternoon, June 27th, Peck Pavillion/Marcus Center for Arts, Milwaukee
The Friday noon show was a free outdoor concert in the Milwaukee Rainbow Summer Series. I was front and center with buddy, Meg, an hour early, of course. (Harvey was also at this one.) The weather was perfect. The audience was packed with everyone from families with their newborns to chi-chi downtown office workers to folks on outings from local group homes to what could pass for Hell's Angels elite - a very enthusiastic bunch - Greg played more of what I think of as family-oriented songs here on the order of Mississippi Moon, Spring Wind, If I Had Known. Dave Bell's parents (the Dave mentioned in Fishin' with Bill) were in the audience, so he did that one for them. Attire was a bright red sleeveless shirt, kind of nondescript olive-ish shorts, hiking boots, a version of the same damn hat though not the original, red-rimmed shades.
Friday Evening, June 27th, Cedarburg Series, Cedarburg, Wisconsin
Friday evening in Cedarburg - my friend Meg and I were conscripted into service - she ushered and I sold CDs - it was a sell-out of 300 or so. I sold $375.00 worth of CDs _before_ the show, Lord knows how much altogether, so I was pretty busy - but in my glory, pontificating over Himself's various CDs - to the point where someone said, "Oh, you must travel with him," "Pfffffttttt, in my dreams," quoth I. Met Mike Schaefer and his wife from Arkansas (lovely folks), Regina, Harvey, Alan Kellman, Russ Evans, who am I forgetting?, were all there. Greg's was some of the most stunning attire I'd ever witnessed him in...jeans, hiking boots, white sleeveless v-neck covered with what looked like a handmade vest, gray with white designs, wide bandanna with all that hair kind of casually arranged over and about it, black-rimmed shades. I'm sure I saw Regina's underwear sail by before the show even started - but at least she wasn't in her leopardskin string bikini as I'd expected. (BTW, there was a wonderful opening set by Don Conoscenti, Atlanta singer-songwriter. He's a buddy of Meg's and mine, so since (surprise) we were front and center, he could razz us with impunity.)
After getting to bed about 3 a.m. - (after having nearly been hit by a car fleeing a law enforcement official in a high speed chase - spending time with several police and being summoned a couple of days later to give a formal statement in a bona fide interrogation room) - I lay around all day Saturday near-comatose, but also wishing I were in Door County at Greg's evening show there. (Speaking of high speed chases, the last time Meg and I went to Minneapolis to see Greg, a car fleeing a robbery just missed us, hitting the car behind us, at which point the driver leaped out, waving a gun and began running away; this sort of happening has to be related to Greg somehow.)
Sunday, June 29th, Cafe Carpe, Ft. Atkinson, Wisconsin
Sunday - 2 shows at Cafe Carpe - met Szymon (how tall are you anyway, Szymon? When I was standing next to you, Meg thought I was sitting down 'til I started walking - very surreal!) - Regina, Harvey, Alan, Russ all there - the air conditioning was broken, the place packed beyond overflowing with sweaty bodies and mosquitoes at a fiesta - Greg's in those hiking boots, shorts, black sleeveless deal, feedcap (said RAM, if I remember correctly), black rimmed glasses for first show, red ones for second....Regina hid his glasses after the first show, thinking he'd play without them - little realizing he has an endless supply he produces out of the ether. Most of these shows consisted of requests airplaned toward the stage or, in some cases, passed by Meg or me, who were - you guessed it, front and center - he did 3 requests for me - REGINA of the yellow, yellow dress (noble of me, don't you think?), Loneliness House (which I'd never heard) and Speaking in Tongues. Between shows, Regina and I took some pics of each other with Greg, actually saw the inside of his camper (I _had_ to follow her to chaperone, as you might imagine) where he showed us a wonderful painting of house and flowers he'd bought in Door Co. that reminded him of his grandmother's yard. After the second show, Regina and I spent some time with a couple of others sitting and having a couple of drinks with Greg. Great fun - as you might imagine, though very trying to have to watch that woman _every moment_. The next day, Regina and I had a lovely brunch with Kitty Welch, one of the owners of the Cafe Carpe, before Regina had to set off back to Dubuque.
High points musically for me - Greg started off the first Carpe show with a Kate Wolf song (help me with the name, guys) - that will appear on a Kate Wolf tribute album - as a duet with GREG AND FERRON. Lord, pick me off the floor. He later told me Ferron said she would not have sung that high for another person on the planet but him. I allowed as he _did_ make women of all persuasions do strange things to suit him. He also sang "Ain't Life A Brook" which I haven't heard him do in 4 or 5 years. When someone requested a Hank Williams song (help me with the name again) he did it with a great sequeway into "Band of Gold". He did "'52 Vincent" (although the request said '53 Vincent) - I hadn't heard the "vehicular medley" in a while.
Over the course of the weekend, the newest songs he did - the one he'd written on Saturday, Loneliness House, This Blue, It's Enough, Mose Allison, Speaking in Tongues, Down at the Mill. Older stuff: Small Dark Movie, Hey Baby Hey, Think About You, Two Little Feet, Maria, You Can Always Come to Me, Further In, Not High, '64 Dodge, Jesus and Elvis (accompanied by a great story about putting his head on Garnet Rogers' shoulder - Garnet is 6'6" tall, poor Greg, a mere 6'2" :-)), Poet Game, Boomtown, One Wrong Turn, One Cool Remove, Dream Cafe, By Myself, You Drive Me Crazy, Spring Wind, Laughing River, If I Had Known, Band of Gold, Mississippi Moon, Who Woulda Thunk It, Carrikfergus, She Moved through The Fair, Regina, Dusty Woods (oh yeah, he did this twice during the weekend), a couple of Bob Dylan tunes, tons more, but somebody fill in - I'm having a massive cerebral meltdown - (Meg, can you help here? Regina? Anybody? AAGGGGHHHH!)
And that cad, Alan Kellman, was on his way to see Himself at High Sierra over the 4th of July weekend. Life's not fair!
What more can I say but I WANT HIM BACK! (...oh pardon me).
What a man. Shirley