Greg Brown -- March 23, 1997
Down Home, Johnson City, Tennessee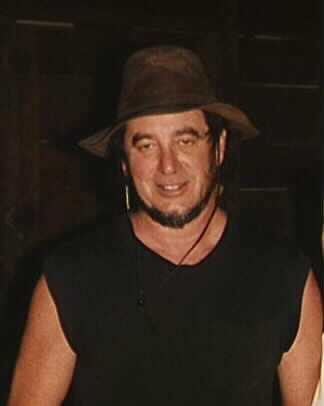 Greg at Johnson City, March 23, 1997
(photo by Becky Becker)

Date sent: Tue, 25 Mar 1997 20:51:28 -0600
From: Becky Becker <rbecker@bellsouth.net>
Subject: Johnson City Show


We drove up to Johnson City from Nashville on Sunday morning. It was a beautiful drive. Spring has definitely arrived in the hills of Middle and East Tennessee. The redbuds are gorgeous and the dogwoods are just starting to burst out.

After checking into our motel, I called the Down Home to get directions. The guy on the phone was real friendly, "Greg's not here yet but we're open. You all come on down." So we got there about 5:30. The front center table was already occupied so we chose a table just to the right of center. We had food and drinks while waiting for Greg to arrive. For a long time it was just us and that other table. I was beginning to think that no one else would show up.

People started trickling in around 7:00. By the time the show started there were between 30 and 40 people there. Greg and Bo got there about 7:10. They each brought in a guitar and went back outside. My friend Kim had gone out to put something in my car and saw Greg outside. She talked to him for a minute. She asked him if he would sign our shirts and he said he would. My husband had gone out to look for the comet. He saw Bo pull up in Greg's truck to unload more equipment. He asked Bo if he could help steal his stuff. At first Bo was startled and then they laughed about it. Bo and Greg unpacked their stuff and did a brief sound check. Greg promised us a picture after the show. Then they left the stage for about 15 minutes.

I almost forgot the wardrobe - Tweed Jacket which came off while they were setting up the gear. Black sleeveless t-shirt, jeans, clogs (first time I've ever seen him in footwear other than motorcycle boots), The Hat and Red sunglasses. He says he buys all his sunglasses at Ekcerds. About 7:40 they returned to the stage and immediatly started with Down at the Mill.

There was very little talking other than thank you between songs for the first several songs, which were One Wrong Turn, Speaking in Tongues, Mose Allison Played Here, Just By Myself. Before doing Slow Food he talked a little about life on the road. He said it wasn't very hard most of the time except when he really wanted to eat. Next were If I Had Known, China, Hillbilly Girl, A Place in the Country and Whoda Thunk It. That was the end of the first set. Before A Place in the Country he said that this is what love is like in his hometown in Iowa. The club did not allow smoking during the show, but at intermission it seemed like everyone in the place was smoking except me. I went outside and saw the comet.

The second set started with Some Dusty Woods, It's Enough God Dammit, Poet Game, Brand New Dodge, Think About You. He talked about writing Small Dark Movie in Asheville last year before going to Atlanta. Then he did Small Dark Movie. The next song is one that I've never heard before and couldn't quite make out what the title will be. It might be something like I'd Like to Give you Something. Then was Two Little Feet and the last song was Why Don't You Just Go Home.

Greg and Bo were both wonderful but I also thought that they were physically tired. They had done a lot of driving in a very short time. They were in Knoxville TN on Thursday night, Asheville NC on Friday, Greenville SC on Saturday then back through Asheville to get to Johnson City on Sunday. The truck is green with a shell on the back by the way. My husbands thinks it was a Chevy but he can't remember for sure. Iowa tags of course.

We waited around for them to come back out so we could get our promised picture and autographs. Bo came back out first and started packing his gear. He had the four guitars mentioned by Mike. Greg came out finally and because his stuff was on the right side of the stage we were able to chat with him while he was packing his stuff. He just got the Gibson - it's a 1950. He said Bo talked him in to it. He signed my shirt and Kim's on the front across the top of the hat. Then he posed for a picture with us. I have to figure out a way to hurry up and use the other 6 exposures on the roll of film. I asked him about Pat Donohue who is a friend of his and who we knew from our Denver Folk Lore Center Days. Pat played guitar on One More Good Night Kiss and has recorded some Greg songs on his own albums.

Greg lit up when talking about Pat. Pat is now the house guitarist for Prairie Home Companion. I asked him if he was going to come to Nashville this year. He said it was such a hard town to play because there are so many musicians here. I reminded him about the Sutler last year and how good it was. He smiled and said yeah that's a great club. He was coming to Nashville yesterday for a few days but just to rest before driving to St Louis. He didn't have any gigs. I hope he had a good time and got some rest. Kim, my husband and I had a wonderful time and definitely would do it all over again.