Greg Brown - January 29-30, 2000
Corvallis, Oregon
(photos courtesy of Moe Stenson)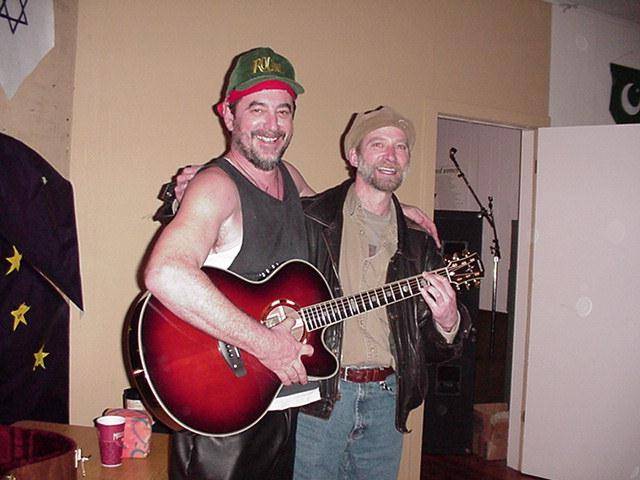 Checking out the new guitar
Date: Wed, 2 Feb 2000
From: David Ferri <pharmboy@cruzio.com>
Subject: Corvallis set lists

Don't know where to begin. It was a lovely weekend in Corvallis filled with great music and beautiful people. Quite the special, spectacular and magical occasion. The weather co-operated quite well. We had clear sunny skies every day but Sunday afternoon. It was great to see everyone pull together and help out in so many ways. I think Brook, Jana, Greg, and all the volunteers were pleased with how well everything went. And because of everyone's hard work and dedication Solid Heart was a great success. And as we relive the memories of this past weekend, i hope we can continue to spread the word about In Harmony. I gathered some info to distribute to those who would be interested here locally.
I cannot say much about the scrabble game since i was not present. I was off moving & setting up sound equipment. But i'm sure there will be play by play coverage of the games. But from what i heard everything went well and Greg scored some big points.
The Music was spectacular. Greg's sets were awesome and the song selection was great as well. You Are A Flower....magical and that sums it up right there... Enough said. Oh yea cannot forget about Say A Little Prayer. A couple new songs that are going to be on the new Album were also a treat....Blue Car and 'Cept You And Me. Karen Savoca and Pete Heitzman get better eveytime i see them. And it was a treat to see Kristen & Jen Allen-Zito open the show. Karen and Pete played with Greg after doing their own set and Karen's harmonizing vocals were quite nice. Sound was provided by Diana Robson who did just a absolutely wonderful job! And in Stereo. There was a little trouble with the bass in the room but she made it disappear! It is safe to say everything all weekend was awesome. And now for the set lists to the Greg portion of the weekend.
Cheers
David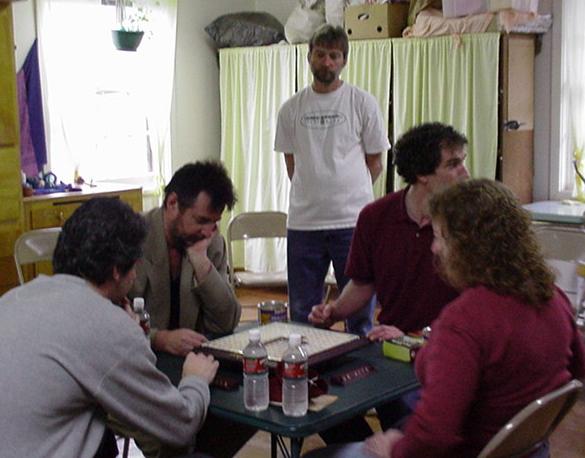 The Sunday Scrabble game
1-29-00 Sat. afternoon show

Hey Baby Hey
Two Little Feet
Speaking In Tongues
Billy From The Hills
Lullaby
Marriage Chant
Think About You
Solid Heart
Build A Little Village
encore: Blue Car

1-29-00 Sat. Evening Show

Twelve Gates To The City
Cheapest Kind
China
Enough
Say A little Prayer
I'm Walkin', Daddy
Waitin' On You
Sadness
'Cept You and Me
You Got To Move
Goodnight Irene
encore: You Really Got A Hold on Me

1-30-00 Sun Afternoon Family Show

Bathtub Blues
Late Night Radio
Mississippi Moon
Samson & Delilah
Payday
Build A Little Village
Summertime
Two Little Feet
You Are A Flower
encore: Spring Wind


"Solid Heart" card for Greg made by Barbara Fugate
(photo by Brian MacDonald)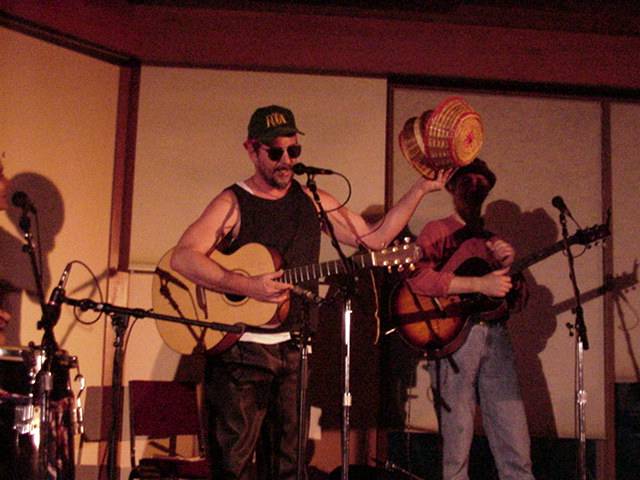 "Preacher Greg" preparing to take up a collection for In Harmony